Request an Appointment
with Dentist in Ipswich
Full-Service
Dental Office
Our Ipswich dental office offers patients a wide span of cosmetic, general, orthodontic, and surgical dental services. In addition, we also provide med-spa services, including face lifting, injectables, and fillers. Contact us to request an appointment today!
Advanced Technology
Provided
Our goal is to provide our patients with the highest level of dental care. Therefore, we invest in and utilize the most advanced technology, such as a digital intraoral scanner, 3D X-rays (CBCT), dental lasers, and the CEREC Milling System for same-day dental crowns to provide precise and efficient services.
Affordable
Payment Plans
At Ipswich Bay Dental, we pride ourselves on providing quality dental care at an affordable rate. We offer in-house payment plans for patients without any dental insurance. Contact our dental clinic in Ipswich for more details.
Same-Day
Dental Emergencies
Our Ipswich dental clinic near you provides same-day emergency dental services to provide patients with immediate dental care. Some dental emergencies we treat include cracked, broken, chipped, or knocked-out teeth.
Welcome to Ipswich Bay Dental
A Dentist Near You
Our team at Ipswich Bay Dental consists of world-class dentists, the industry's key opinion leaders who bring the next level of dentistry to Ipswich. Our doctors work with the best labs, clinical partners, and safety technology to ensure you receive exemplar dental care. Our dentists in Ipswich understand each patient is different and provide a personalized approach to dental care. Above all else, our dentist near you prioritizes your comfort and wellness. Our dentists practice conservative dentistry to ensure you are receiving the dental care that is necessary and beneficial to your oral health. Our dentist near you is also dedicated to building long-lasting relationships based on trust to provide lifelong dental care to our patients and their families.

Guided Dental Implant Surgery
Computer-guided dental implant surgery allows our dentist to place dental implants precisely and accurately. In addition, guided implant surgery also reduces the risk of unexpected complications, reduces surgery time, promotes quicker recovery, and eliminates guesswork by utilizing a precise surgical template.
CBCT Same-Day Root Canal
Cone Beam Computed Tomography (CBCT) streamlines the treatment planning and diagnosis process in most aspects of dentistry. This technology allows our Ipswich dental clinic to provide same-day root canal therapy more efficiently and precisely.
Contact a dentist near you to ease your pain today.

CEREC Same-Day Dental Crowns
CEREC dental crowns eliminate the waiting period. With the help of the CEREC Primemill Machine, we are able to provide new dental crowns to our patients on the same day! Instantly restore your smile at Ipswich Bay Dental.
In-Office Teeth Whitening
Professional teeth whitening offers a quick, non-invasive, and simple treatment to enhance your smile. Within an hour, you can remove discoloration and stains to achieve a healthier and more attractive-looking smile. Schedule a consultation at our dental office in Ipswich today!
Laser Gum Disease Treatment
Aside from Scaling & Root Planing (SRP), our dental office in Ipswich also utilizes lasers to treat gum disease in a precise way. Lasers also minimize chair time, preserve the healthy parts of the teeth, expedite healing, and avoid reduction gum tissue. Contact our dental office in Ipswich to learn more.
Dental Cleanings & Check-Ups
Routine oral exams, check-ups, and dental cleanings are essential to maintaining and promoting good oral health. We recommend visiting our dentist in Ipswich every six months to maintain good oral health, aside from regular flossing and brushing. Contact our office to schedule an appointment today.
We Work

with the Best, for You.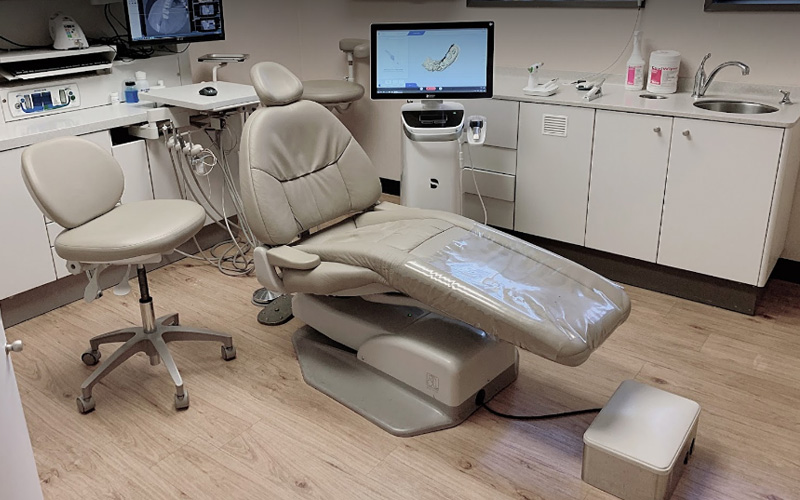 Preventative Dentistry
Preventative dental care is an essential step to promoting lifelong healthy smiles and oral wellness. By visiting our dentist in Ipswich every six months and practicing good oral hygiene habits at home, you can maintain healthy teeth and gums. At Ipswich Bay Dental, we ensure our cleanings and check-ups are provided in a comfortable and relaxing manner. Our team goes above and beyond to ensure all of our patient's individual needs are met.
Our dentists near you also incorporate an educational approach to help our patients better understand their oral health. We are also dedicated to creating strong, long-lasting relationships with our patients built on a foundation of trust. At Ipswich Bay Dental, we also offer dental x-rays, and dental sealants as additional preventative measures. Contact our Ipswich dental office near you to schedule an appointment today!
Cosmetic Dentistry
Our Ipswich dental office provides numerous cosmetic treatments to help our patients feel more confident in their smiles and selves. Some treatments we provide include cosmetic injections, porcelain veneers, teeth whitening, and dental crowns. Cosmetic injections can help you look more youthful by minimizing the appearance of wrinkles. Teeth whitening and veneers are great options to enhance your smile and minimize discoloration. Aside from minimizing stains, veneers can also correct minor misalignment and enhance the overall shape of your tooth. Contact our practice to learn more and schedule a consultation today!
Restorative Dentistry
Our Ipswich dental office provides a variety of restorative dental treatments, from dental bridges to dental implants. These treatments are ideal for restoring missing teeth. Root canal therapy is a restorative treatment offered to treat decay and preserve your natural tooth. If you are interested in receiving dental restorations, please contact our dentist in Ipswich to schedule a consultation today.
Why Choose Us?
Are you looking for an Ipswich dentist near you? At Ipswich Bay Dental, we are a full-service dental clinic dedicated to providing new and existing patients with comprehensive dental care. Our team of skilled experts prioritizes your oral health and comfort. We go above and beyond to ensure your visit is as comfortable as it can be. Our dentists near you focus on hygiene treatment to promote a lifetime of dental wellness. Aside from dental hygiene, we also provide a variety of specialized services to ensure all of your dental needs can be addressed.
At Ipswich Bay Dental, your smile is in good hands. Our goal is to help patients maintain healthy teeth for the rest of their lives. Rest assured, our dentists will only recommend treatments that are beneficial and absolutely necessary to maintain or improve your oral health. Contact us to learn more about our Ipswich dental office today.